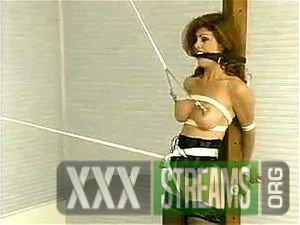 Jay Edwards clips
I have taken a number of full-length Jay Edwards movies and split them into their individual scenes (usually they're 60-90 mins with 5-10 scenes). The process was done with ffmpeg's black frame detection filter, so some transitions were not picked up, but it gets most of them. I have also transcoded the originals from their various .rm, .wmv, or .mpeg formats to .mp4.
If you're not familiar with the content usually it's women tied up, left to struggle for a while, then Jay turns up for a few minutes to do some groping/light spanking etc. You can expect to see mostly rope bondage, sometimes leather straps etc are used, most often the girls are gagged (ballgags are frequently used in addition to tape/bandages). In many scenes they have vibrators etc used on them. There's no sex or penetration.
I think a lot of this stuff is from the mid to late 2000s so don't expect amazing resolutions – it's not HD, but still viewable. The minimum quality is 320p but many are better. This is not a complete megapack or siterip, just the videos I happened to have at a decent resolution.
The clips are taken from the following videos:
JEV-078 – Tami's Bondage Romp
JEV-141 – Roommate With A View
JEV-171 – Attitude Adjustment
Jay+Edwards+-+JEV-186-+Punished+and+Pleased
JEV-208 – Paying The Price
JEV-070 – Punishment Princess
JEV-145 – Jenni Lee's Wild Ride
JEV-129 – I've Never Done This Before
JEV-096 – But You Promised…
JEV-069 – Love Lessons
JEV-100 – D-Cup Discipline 2
JEV-207
JEV-142 – Shop-A-Holic's Nightmare, The
JEV-169 – Lessons For Lauren
JSV-2 – Strict Touch of the Master
JEV-126 – Packaged Goods
JEV-168 – NoMeansNo
JEV-087 – All's Fair In Love & Bondage
JEV-157 – Blondage Files, The
JEV-143 – Bishop Tribute
JEV-077 – From Excess To Success
JEV-019 – Always Gagged
JEV-198 – Bondage Virgin
JEV-127 – I've Been Good
JEV-181 – Tight and Tighter
JEV-083 – Bounty On Brittany
JEV-144 – Dressed To Impress
JEV-251 – Long Day for Natalie
JEV-166 – Pretty In Pink
JEV-066 – D-Cup Discipline
JEV-044 – Bambi Ravished By Rope
JEV-135 – Babe In A Box
JEV-151 – Poor You!
JEV-132 – Put Through Their Paces
JEV 212 – The+dependence+of+Emily
JEV-148 – Stacy's Submission Session
Themes In Red And Black
Jay Edwards – Jev 063 – Excellence In Submission
JEV-014 – We Deliver
JEV-075 – Novel Desires
JEV-125 – Big City Bound
JEV-099 – Dirty Work
JEV-113 – Unconventional Therapy
Jay Edwards JEV-215 – Taming Jamie
JEV-159 – Manhandled Molly
Jay Edwards – Jev-221 Bianca Tied And Trained
JEV-027 – Keeping Her In Suspension
JEV128
JEV-120 – D-Cup Discipline 4
JEV-137 – Sharon's Initiation
Jay Edwards – JEV-205 – Bound And Blond
JEV 053 – Tightly Tied Times Three [DVD]
Jay Edwards – Jev 015 – Tight Bondage
JEV-136 – What's A Guy To Do-
Photos on ubiqfile.com:
thumbnails.zip – 51.1 MB
Videos on ubiqfile.com:
168 – NoMeansNo_part10.mp4 – 7.0 MB
168 – NoMeansNo_part2.mp4 – 38.2 MB
168 – NoMeansNo_part3.mp4 – 24.0 MB
168 – NoMeansNo_part4.mp4 – 29.1 MB
168 – NoMeansNo_part5.mp4 – 27.8 MB
168 – NoMeansNo_part6.mp4 – 32.2 MB
168 – NoMeansNo_part7.mp4 – 27.7 MB
168 – NoMeansNo_part8.mp4 – 31.5 MB
168 – NoMeansNo_part9.mp4 – 29.1 MB
207_part1.mp4 – 59.9 MB
207_part2.mp4 – 30.6 MB
207_part3.mp4 – 40.9 MB
207_part4.mp4 – 33.7 MB
207_part5.mp4 – 29.9 MB
Jay Edwards – Jev 015 – Tight Bondage_part1.mp4 – 73.8 MB
Jay Edwards – Jev 015 – Tight Bondage_part2.mp4 – 80.6 MB
Jay Edwards – Jev 015 – Tight Bondage_part3.mp4 – 56.7 MB
Jay Edwards – Jev 015 – Tight Bondage_part4.mp4 – 50.9 MB
Jay Edwards – Jev 015 – Tight Bondage_part5.mp4 – 57.8 MB
Jay Edwards – Jev 015 – Tight Bondage_part6.mp4 – 72.7 MB
Jay Edwards – Jev 015 – Tight Bondage_part7.mp4 – 82.0 MB
Jay Edwards – Jev 015 – Tight Bondage_part8.mp4 – 90.2 MB
Jay Edwards – Jev 015 – Tight Bondage_part9.mp4 – 54.7 MB
Jay Edwards – Jev 063 – Excellence In Submission_part1.mp4 – 42.3 MB
Jay Edwards – Jev 063 – Excellence In Submission_part10.mp4 – 59.5 MB
Jay Edwards – Jev 063 – Excellence In Submission_part11.mp4 – 16.4 MB
Jay Edwards – Jev 063 – Excellence In Submission_part12.mp4 – 20.8 MB
Jay Edwards – Jev 063 – Excellence In Submission_part2.mp4 – 44.3 MB
Jay Edwards – Jev 063 – Excellence In Submission_part3.mp4 – 65.9 MB
Jay Edwards – Jev 063 – Excellence In Submission_part4.mp4 – 66.4 MB
Jay Edwards – Jev 063 – Excellence In Submission_part5.mp4 – 28.4 MB
Jay Edwards – Jev 063 – Excellence In Submission_part6.mp4 – 80.7 MB
Jay Edwards – Jev 063 – Excellence In Submission_part7.mp4 – 76.4 MB
Jay Edwards – Jev 063 – Excellence In Submission_part8.mp4 – 77.1 MB
Jay Edwards – Jev 063 – Excellence In Submission_part9.mp4 – 74.4 MB
Jay Edwards – JEV-205 – Bound And Blond_part1.mp4 – 36.0 MB
Jay Edwards – JEV-205 – Bound And Blond_part2.mp4 – 48.1 MB
Jay Edwards – JEV-205 – Bound And Blond_part3.mp4 – 39.7 MB
Jay Edwards – JEV-205 – Bound And Blond_part4.mp4 – 42.4 MB
Jay Edwards – JEV-205 – Bound And Blond_part5.mp4 – 32.6 MB
Jay Edwards – JEV-205 – Bound And Blond_part6.mp4 – 40.6 MB
Jay Edwards – Jev-221 Bianca Tied And Trained_part1.mp4 – 40.0 MB
Jay Edwards – Jev-221 Bianca Tied And Trained_part2.mp4 – 53.7 MB
Jay Edwards – Jev-221 Bianca Tied And Trained_part3.mp4 – 51.6 MB
Jay Edwards – Jev-221 Bianca Tied And Trained_part4.mp4 – 45.2 MB
Jay Edwards – Jev-221 Bianca Tied And Trained_part5.mp4 – 49.0 MB
Jay Edwards JEV-215 – Taming Jamie_part1.mp4 – 28.7 MB
Jay Edwards JEV-215 – Taming Jamie_part2.mp4 – 34.2 MB
Jay Edwards JEV-215 – Taming Jamie_part3.mp4 – 28.4 MB
Jay Edwards JEV-215 – Taming Jamie_part4.mp4 – 30.3 MB
Jay Edwards JEV-215 – Taming Jamie_part5.mp4 – 30.3 MB
Jay Edwards JEV-215 – Taming Jamie_part6.mp4 – 30.0 MB
Jay+Edwards+-+JEV-186-+Punished+and+Pleased_part1.mp4 – 36.6 MB
Jay+Edwards+-+JEV-186-+Punished+and+Pleased_part10.mp4 – 13.0 MB
Jay+Edwards+-+JEV-186-+Punished+and+Pleased_part2.mp4 – 45.7 MB
Jay+Edwards+-+JEV-186-+Punished+and+Pleased_part3.mp4 – 47.7 MB
Jay+Edwards+-+JEV-186-+Punished+and+Pleased_part4.mp4 – 46.6 MB
Jay+Edwards+-+JEV-186-+Punished+and+Pleased_part5.mp4 – 34.5 MB
Jay+Edwards+-+JEV-186-+Punished+and+Pleased_part6.mp4 – 47.8 MB
Jay+Edwards+-+JEV-186-+Punished+and+Pleased_part7.mp4 – 52.2 MB
Jay+Edwards+-+JEV-186-+Punished+and+Pleased_part8.mp4 – 80.9 MB
Jay+Edwards+-+JEV-186-+Punished+and+Pleased_part9.mp4 – 57.3 MB
JEV 053 – Tightly Tied Times Three [DVD]_part1.mp4 – 57.5 MB
JEV 053 – Tightly Tied Times Three [DVD]_part10.mp4 – 40.3 MB
JEV 053 – Tightly Tied Times Three [DVD]_part11.mp4 – 13.6 MB
JEV 053 – Tightly Tied Times Three [DVD]_part12.mp4 – 9.8 MB
JEV 053 – Tightly Tied Times Three [DVD]_part13.mp4 – 10.2 MB
JEV 053 – Tightly Tied Times Three [DVD]_part2.mp4 – 57.1 MB
JEV 053 – Tightly Tied Times Three [DVD]_part3.mp4 – 52.0 MB
JEV 053 – Tightly Tied Times Three [DVD]_part4.mp4 – 40.9 MB
JEV 053 – Tightly Tied Times Three [DVD]_part5.mp4 – 42.2 MB
JEV 053 – Tightly Tied Times Three [DVD]_part6.mp4 – 59.6 MB
JEV 053 – Tightly Tied Times Three [DVD]_part7.mp4 – 48.4 MB
JEV 053 – Tightly Tied Times Three [DVD]_part8.mp4 – 55.1 MB
JEV 053 – Tightly Tied Times Three [DVD]_part9.mp4 – 42.0 MB
JEV 212 – The+dependence+of+Emily_part1.mp4 – 33.1 MB
JEV 212 – The+dependence+of+Emily_part2.mp4 – 32.4 MB
JEV 212 – The+dependence+of+Emily_part3.mp4 – 39.7 MB
JEV 212 – The+dependence+of+Emily_part4.mp4 – 38.7 MB
JEV 212 – The+dependence+of+Emily_part5.mp4 – 31.9 MB
JEV 212 – The+dependence+of+Emily_part6.mp4 – 29.2 MB
JEV-014 – We Deliver_part1.mp4 – 113.1 MB
JEV-014 – We Deliver_part10.mp4 – 10.5 MB
JEV-014 – We Deliver_part11.mp4 – 3.6 MB
JEV-014 – We Deliver_part2.mp4 – 71.9 MB
JEV-014 – We Deliver_part3.mp4 – 58.4 MB
JEV-014 – We Deliver_part4.mp4 – 72.1 MB
JEV-014 – We Deliver_part5.mp4 – 75.1 MB
JEV-014 – We Deliver_part6.mp4 – 75.9 MB
JEV-014 – We Deliver_part7.mp4 – 48.5 MB
JEV-014 – We Deliver_part8.mp4 – 47.1 MB
JEV-014 – We Deliver_part9.mp4 – 62.6 MB
JEV-019 – Always Gagged_part1.mp4 – 32.9 MB
JEV-019 – Always Gagged_part10.mp4 – 50.3 MB
JEV-019 – Always Gagged_part11.mp4 – 8.5 MB
JEV-019 – Always Gagged_part2.mp4 – 47.3 MB
JEV-019 – Always Gagged_part3.mp4 – 49.0 MB
JEV-019 – Always Gagged_part4.mp4 – 47.3 MB
JEV-019 – Always Gagged_part5.mp4 – 45.8 MB
JEV-019 – Always Gagged_part6.mp4 – 53.1 MB
JEV-019 – Always Gagged_part7.mp4 – 40.8 MB
JEV-019 – Always Gagged_part8.mp4 – 39.4 MB
JEV-019 – Always Gagged_part9.mp4 – 28.6 MB
JEV-027 – Keeping Her In Suspension_part1.mp4 – 112.6 MB
JEV-027 – Keeping Her In Suspension_part10.mp4 – 18.3 MB
JEV-027 – Keeping Her In Suspension_part11.mp4 – 11.7 MB
JEV-027 – Keeping Her In Suspension_part12.mp4 – 14.4 MB
JEV-027 – Keeping Her In Suspension_part2.mp4 – 126.9 MB
JEV-027 – Keeping Her In Suspension_part3.mp4 – 58.6 MB
JEV-027 – Keeping Her In Suspension_part4.mp4 – 83.8 MB
JEV-027 – Keeping Her In Suspension_part5.mp4 – 92.4 MB
JEV-027 – Keeping Her In Suspension_part6.mp4 – 89.0 MB
JEV-027 – Keeping Her In Suspension_part7.mp4 – 65.5 MB
JEV-027 – Keeping Her In Suspension_part8.mp4 – 87.9 MB
JEV-027 – Keeping Her In Suspension_part9.mp4 – 97.1 MB
JEV-044 – Bambi Ravished By Rope_part1.mp4 – 52.3 MB
JEV-044 – Bambi Ravished By Rope_part10.mp4 – 58.8 MB
JEV-044 – Bambi Ravished By Rope_part11.mp4 – 11.1 MB
JEV-044 – Bambi Ravished By Rope_part12.mp4 – 12.1 MB
JEV-044 – Bambi Ravished By Rope_part13.mp4 – 16.7 MB
JEV-044 – Bambi Ravished By Rope_part14.mp4 – 13.1 MB
JEV-044 – Bambi Ravished By Rope_part15.mp4 – 13.5 MB
JEV-044 – Bambi Ravished By Rope_part16.mp4 – 31.5 MB
JEV-044 – Bambi Ravished By Rope_part2.mp4 – 51.8 MB
JEV-044 – Bambi Ravished By Rope_part3.mp4 – 43.9 MB
JEV-044 – Bambi Ravished By Rope_part4.mp4 – 54.5 MB
JEV-044 – Bambi Ravished By Rope_part5.mp4 – 62.6 MB
JEV-044 – Bambi Ravished By Rope_part6.mp4 – 57.7 MB
JEV-044 – Bambi Ravished By Rope_part7.mp4 – 68.7 MB
JEV-044 – Bambi Ravished By Rope_part8.mp4 – 46.9 MB
JEV-044 – Bambi Ravished By Rope_part9.mp4 – 39.5 MB
JEV-066 – D-Cup Discipline_part1.mp4 – 56.2 MB
JEV-066 – D-Cup Discipline_part2.mp4 – 56.9 MB
JEV-066 – D-Cup Discipline_part3.mp4 – 69.1 MB
JEV-066 – D-Cup Discipline_part4.mp4 – 59.9 MB
JEV-066 – D-Cup Discipline_part5.mp4 – 64.8 MB
JEV-066 – D-Cup Discipline_part6.mp4 – 59.4 MB
JEV-066 – D-Cup Discipline_part7.mp4 – 57.4 MB
JEV-066 – D-Cup Discipline_part8.mp4 – 53.1 MB
JEV-066 – D-Cup Discipline_part9.mp4 – 24.9 MB
JEV-069 – Love Lessons_part1.mp4 – 12.0 MB
JEV-069 – Love Lessons_part10.mp4 – 13.1 MB
JEV-069 – Love Lessons_part2.mp4 – 51.9 MB
JEV-069 – Love Lessons_part3.mp4 – 68.4 MB
JEV-069 – Love Lessons_part4.mp4 – 87.4 MB
JEV-069 – Love Lessons_part5.mp4 – 67.9 MB
JEV-069 – Love Lessons_part6.mp4 – 59.7 MB
JEV-069 – Love Lessons_part7.mp4 – 75.0 MB
JEV-069 – Love Lessons_part8.mp4 – 19.2 MB
JEV-069 – Love Lessons_part9.mp4 – 69.9 MB
JEV-070 – Punishment Princess_part1.mp4 – 6.9 MB
JEV-070 – Punishment Princess_part10.mp4 – 5.0 MB
JEV-070 – Punishment Princess_part2.mp4 – 52.2 MB
JEV-070 – Punishment Princess_part3.mp4 – 45.1 MB
JEV-070 – Punishment Princess_part4.mp4 – 32.0 MB
JEV-070 – Punishment Princess_part5.mp4 – 48.4 MB
JEV-070 – Punishment Princess_part6.mp4 – 33.8 MB
JEV-070 – Punishment Princess_part7.mp4 – 29.4 MB
JEV-070 – Punishment Princess_part8.mp4 – 40.0 MB
JEV-070 – Punishment Princess_part9.mp4 – 31.2 MB
JEV-075 – Novel Desires_part1.mp4 – 30.5 MB
JEV-075 – Novel Desires_part2.mp4 – 60.2 MB
JEV-075 – Novel Desires_part3.mp4 – 47.0 MB
JEV-075 – Novel Desires_part4.mp4 – 41.1 MB
JEV-075 – Novel Desires_part5.mp4 – 35.5 MB
JEV-075 – Novel Desires_part6.mp4 – 97.5 MB
JEV-075 – Novel Desires_part7.mp4 – 7.6 MB
JEV-077 – From Excess To Success_part1.mp4 – 52.6 MB
JEV-077 – From Excess To Success_part10.mp4 – 32.1 MB
JEV-077 – From Excess To Success_part2.mp4 – 81.6 MB
JEV-077 – From Excess To Success_part3.mp4 – 66.6 MB
JEV-077 – From Excess To Success_part4.mp4 – 70.6 MB
JEV-077 – From Excess To Success_part5.mp4 – 58.6 MB
JEV-077 – From Excess To Success_part6.mp4 – 81.9 MB
JEV-077 – From Excess To Success_part7.mp4 – 33.0 MB
JEV-077 – From Excess To Success_part8.mp4 – 53.6 MB
JEV-077 – From Excess To Success_part9.mp4 – 48.5 MB
JEV-078 – Tami&_x27;s Bondage Romp_part1.mp4 – 83.7 MB
JEV-078 – Tami&_x27;s Bondage Romp_part10.mp4 – 45.6 MB
JEV-078 – Tami&_x27;s Bondage Romp_part11.mp4 – 10.5 MB
JEV-078 – Tami&_x27;s Bondage Romp_part2.mp4 – 56.7 MB
JEV-078 – Tami&_x27;s Bondage Romp_part3.mp4 – 17.2 MB
JEV-078 – Tami&_x27;s Bondage Romp_part4.mp4 – 29.5 MB
JEV-078 – Tami&_x27;s Bondage Romp_part5.mp4 – 37.0 MB
JEV-078 – Tami&_x27;s Bondage Romp_part6.mp4 – 51.4 MB
JEV-078 – Tami&_x27;s Bondage Romp_part7.mp4 – 61.6 MB
JEV-078 – Tami&_x27;s Bondage Romp_part8.mp4 – 47.1 MB
JEV-078 – Tami&_x27;s Bondage Romp_part9.mp4 – 52.1 MB
JEV-083 – Bounty On Brittany_part1.mp4 – 8.5 MB
JEV-083 – Bounty On Brittany_part10.mp4 – 46.5 MB
JEV-083 – Bounty On Brittany_part11.mp4 – 5.9 MB
JEV-083 – Bounty On Brittany_part2.mp4 – 40.8 MB
JEV-083 – Bounty On Brittany_part3.mp4 – 40.1 MB
JEV-083 – Bounty On Brittany_part4.mp4 – 47.0 MB
JEV-083 – Bounty On Brittany_part5.mp4 – 33.0 MB
JEV-083 – Bounty On Brittany_part6.mp4 – 29.8 MB
JEV-083 – Bounty On Brittany_part7.mp4 – 45.3 MB
JEV-083 – Bounty On Brittany_part8.mp4 – 44.1 MB
JEV-083 – Bounty On Brittany_part9.mp4 – 36.5 MB
JEV-087 – All&_x27;s Fair In Love & Bondage_part1.mp4 – 11.9 MB
JEV-087 – All&_x27;s Fair In Love & Bondage_part10.mp4 – 46.6 MB
JEV-087 – All&_x27;s Fair In Love & Bondage_part11.mp4 – 49.2 MB
JEV-087 – All&_x27;s Fair In Love & Bondage_part12.mp4 – 69.2 MB
JEV-087 – All&_x27;s Fair In Love & Bondage_part13.mp4 – 7.4 MB
JEV-087 – All&_x27;s Fair In Love & Bondage_part2.mp4 – 35.4 MB
JEV-087 – All&_x27;s Fair In Love & Bondage_part3.mp4 – 19.7 MB
JEV-087 – All&_x27;s Fair In Love & Bondage_part4.mp4 – 52.0 MB
JEV-087 – All&_x27;s Fair In Love & Bondage_part5.mp4 – 55.7 MB
JEV-087 – All&_x27;s Fair In Love & Bondage_part6.mp4 – 47.6 MB
JEV-087 – All&_x27;s Fair In Love & Bondage_part7.mp4 – 55.8 MB
JEV-087 – All&_x27;s Fair In Love & Bondage_part8.mp4 – 55.7 MB
JEV-087 – All&_x27;s Fair In Love & Bondage_part9.mp4 – 49.5 MB
JEV-096 – But You Promised…_part1.mp4 – 21.3 MB
JEV-096 – But You Promised…_part10.mp4 – 13.5 MB
JEV-096 – But You Promised…_part2.mp4 – 54.1 MB
JEV-096 – But You Promised…_part3.mp4 – 124.1 MB
JEV-096 – But You Promised…_part4.mp4 – 53.3 MB
JEV-096 – But You Promised…_part5.mp4 – 48.2 MB
JEV-096 – But You Promised…_part6.mp4 – 64.4 MB
JEV-096 – But You Promised…_part7.mp4 – 41.8 MB
JEV-096 – But You Promised…_part8.mp4 – 41.0 MB
JEV-096 – But You Promised…_part9.mp4 – 39.6 MB
JEV-099 – Dirty Work_part1.mp4 – 52.6 MB
JEV-099 – Dirty Work_part2.mp4 – 113.9 MB
JEV-099 – Dirty Work_part3.mp4 – 32.5 MB
JEV-099 – Dirty Work_part4.mp4 – 8.6 MB
JEV-099 – Dirty Work_part5.mp4 – 31.9 MB
JEV-099 – Dirty Work_part6.mp4 – 45.0 MB
JEV-099 – Dirty Work_part7.mp4 – 29.1 MB
JEV-099 – Dirty Work_part8.mp4 – 38.0 MB
JEV-099 – Dirty Work_part9.mp4 – 8.5 MB
JEV-100 – D-Cup Discipline 2_part1.mp4 – 34.3 MB
JEV-100 – D-Cup Discipline 2_part10.mp4 – 48.8 MB
JEV-100 – D-Cup Discipline 2_part11.mp4 – 6.3 MB
JEV-100 – D-Cup Discipline 2_part2.mp4 – 40.2 MB
JEV-100 – D-Cup Discipline 2_part3.mp4 – 41.6 MB
JEV-100 – D-Cup Discipline 2_part4.mp4 – 37.8 MB
JEV-100 – D-Cup Discipline 2_part5.mp4 – 34.7 MB
JEV-100 – D-Cup Discipline 2_part6.mp4 – 39.4 MB
JEV-100 – D-Cup Discipline 2_part7.mp4 – 27.3 MB
JEV-100 – D-Cup Discipline 2_part8.mp4 – 54.3 MB
JEV-100 – D-Cup Discipline 2_part9.mp4 – 39.2 MB
JEV-113 – Unconventional Therapy_part1.mp4 – 66.6 MB
JEV-113 – Unconventional Therapy_part10.mp4 – 13.1 MB
JEV-113 – Unconventional Therapy_part2.mp4 – 59.1 MB
JEV-113 – Unconventional Therapy_part3.mp4 – 104.9 MB
JEV-113 – Unconventional Therapy_part4.mp4 – 73.9 MB
JEV-113 – Unconventional Therapy_part5.mp4 – 80.0 MB
JEV-113 – Unconventional Therapy_part6.mp4 – 87.1 MB
JEV-113 – Unconventional Therapy_part7.mp4 – 55.7 MB
JEV-113 – Unconventional Therapy_part8.mp4 – 76.7 MB
JEV-113 – Unconventional Therapy_part9.mp4 – 48.9 MB
JEV-120 – D-Cup Discipline 4_part1.mp4 – 84.8 MB
JEV-120 – D-Cup Discipline 4_part10.mp4 – 14.4 MB
JEV-120 – D-Cup Discipline 4_part2.mp4 – 65.7 MB
JEV-120 – D-Cup Discipline 4_part3.mp4 – 62.3 MB
JEV-120 – D-Cup Discipline 4_part4.mp4 – 55.0 MB
JEV-120 – D-Cup Discipline 4_part5.mp4 – 53.5 MB
JEV-120 – D-Cup Discipline 4_part6.mp4 – 51.2 MB
JEV-120 – D-Cup Discipline 4_part7.mp4 – 49.6 MB
JEV-120 – D-Cup Discipline 4_part8.mp4 – 40.4 MB
JEV-120 – D-Cup Discipline 4_part9.mp4 – 55.1 MB
JEV-125 – Big City Bound_part1.mp4 – 71.6 MB
JEV-125 – Big City Bound_part2.mp4 – 29.8 MB
JEV-125 – Big City Bound_part3.mp4 – 29.6 MB
JEV-125 – Big City Bound_part4.mp4 – 32.0 MB
JEV-125 – Big City Bound_part5.mp4 – 35.3 MB
JEV-125 – Big City Bound_part6.mp4 – 25.2 MB
JEV-125 – Big City Bound_part7.mp4 – 32.6 MB
JEV-125 – Big City Bound_part8.mp4 – 31.5 MB
JEV-125 – Big City Bound_part9.mp4 – 5.8 MB
JEV-126 – Packaged Goods_part1.mp4 – 60.9 MB
JEV-126 – Packaged Goods_part2.mp4 – 58.0 MB
JEV-126 – Packaged Goods_part3.mp4 – 40.5 MB
JEV-126 – Packaged Goods_part4.mp4 – 29.2 MB
JEV-126 – Packaged Goods_part5.mp4 – 31.0 MB
JEV-126 – Packaged Goods_part6.mp4 – 31.8 MB
JEV-126 – Packaged Goods_part7.mp4 – 37.2 MB
JEV-127 – I&_x27;ve Been Good_part1.mp4 – 33.8 MB
JEV-127 – I&_x27;ve Been Good_part2.mp4 – 35.2 MB
JEV-127 – I&_x27;ve Been Good_part3.mp4 – 64.7 MB
JEV-127 – I&_x27;ve Been Good_part4.mp4 – 27.3 MB
JEV-127 – I&_x27;ve Been Good_part5.mp4 – 22.0 MB
JEV-127 – I&_x27;ve Been Good_part6.mp4 – 24.0 MB
JEV-127 – I&_x27;ve Been Good_part7.mp4 – 23.7 MB
JEV-127 – I&_x27;ve Been Good_part8.mp4 – 29.4 MB
JEV-127 – I&_x27;ve Been Good_part9.mp4 – 5.4 MB
JEV-129 – I&_x27;ve Never Done This Before_part1.mp4 – 26.2 MB
JEV-129 – I&_x27;ve Never Done This Before_part2.mp4 – 59.7 MB
JEV-129 – I&_x27;ve Never Done This Before_part3.mp4 – 30.4 MB
JEV-129 – I&_x27;ve Never Done This Before_part4.mp4 – 29.9 MB
JEV-129 – I&_x27;ve Never Done This Before_part5.mp4 – 27.9 MB
JEV-129 – I&_x27;ve Never Done This Before_part6.mp4 – 25.6 MB
JEV-129 – I&_x27;ve Never Done This Before_part7.mp4 – 22.4 MB
JEV-129 – I&_x27;ve Never Done This Before_part8.mp4 – 20.8 MB
JEV-129 – I&_x27;ve Never Done This Before_part9.mp4 – 6.2 MB
JEV-132 – Put Through Their Paces_part1.mp4 – 74.3 MB
JEV-132 – Put Through Their Paces_part2.mp4 – 35.9 MB
JEV-132 – Put Through Their Paces_part3.mp4 – 42.3 MB
JEV-132 – Put Through Their Paces_part4.mp4 – 42.4 MB
JEV-132 – Put Through Their Paces_part5.mp4 – 28.9 MB
JEV-132 – Put Through Their Paces_part6.mp4 – 37.0 MB
JEV-132 – Put Through Their Paces_part7.mp4 – 44.7 MB
JEV-132 – Put Through Their Paces_part8.mp4 – 38.4 MB
JEV-132 – Put Through Their Paces_part9.mp4 – 6.3 MB
JEV-135 – Babe In A Box_part1.mp4 – 32.3 MB
JEV-135 – Babe In A Box_part2.mp4 – 35.3 MB
JEV-135 – Babe In A Box_part3.mp4 – 32.3 MB
JEV-135 – Babe In A Box_part4.mp4 – 25.9 MB
JEV-135 – Babe In A Box_part5.mp4 – 53.4 MB
JEV-135 – Babe In A Box_part6.mp4 – 36.9 MB
JEV-135 – Babe In A Box_part7.mp4 – 23.6 MB
JEV-135 – Babe In A Box_part8.mp4 – 28.7 MB
JEV-135 – Babe In A Box_part9.mp4 – 5.3 MB
JEV-136 – What&_x27;s A Guy To Do-_part1.mp4 – 50.3 MB
JEV-136 – What&_x27;s A Guy To Do-_part2.mp4 – 115.5 MB
JEV-136 – What&_x27;s A Guy To Do-_part3.mp4 – 83.5 MB
JEV-136 – What&_x27;s A Guy To Do-_part4.mp4 – 48.1 MB
JEV-136 – What&_x27;s A Guy To Do-_part5.mp4 – 57.1 MB
JEV-136 – What&_x27;s A Guy To Do-_part6.mp4 – 55.7 MB
JEV-136 – What&_x27;s A Guy To Do-_part7.mp4 – 53.6 MB
JEV-136 – What&_x27;s A Guy To Do-_part8.mp4 – 11.1 MB
JEV-137 – Sharon&_x27;s Initiation_part1.mp4 – 32.6 MB
JEV-137 – Sharon&_x27;s Initiation_part2.mp4 – 25.2 MB
JEV-137 – Sharon&_x27;s Initiation_part3.mp4 – 25.6 MB
JEV-137 – Sharon&_x27;s Initiation_part4.mp4 – 23.2 MB
JEV-137 – Sharon&_x27;s Initiation_part5.mp4 – 28.6 MB
JEV-137 – Sharon&_x27;s Initiation_part6.mp4 – 37.3 MB
JEV-137 – Sharon&_x27;s Initiation_part7.mp4 – 41.6 MB
JEV-137 – Sharon&_x27;s Initiation_part8.mp4 – 32.8 MB
JEV-137 – Sharon&_x27;s Initiation_part9.mp4 – 33.8 MB
JEV-141 – Roommate With A View_part1.mp4 – 20.3 MB
JEV-141 – Roommate With A View_part10.mp4 – 50.8 MB
JEV-141 – Roommate With A View_part11.mp4 – 78.0 MB
JEV-141 – Roommate With A View_part12.mp4 – 11.4 MB
JEV-141 – Roommate With A View_part2.mp4 – 45.2 MB
JEV-141 – Roommate With A View_part3.mp4 – 41.2 MB
JEV-141 – Roommate With A View_part4.mp4 – 54.2 MB
JEV-141 – Roommate With A View_part5.mp4 – 56.7 MB
JEV-141 – Roommate With A View_part6.mp4 – 63.2 MB
JEV-141 – Roommate With A View_part7.mp4 – 62.6 MB
JEV-141 – Roommate With A View_part8.mp4 – 58.6 MB
JEV-141 – Roommate With A View_part9.mp4 – 59.1 MB
JEV-142 – Shop-A-Holic&_x27;s Nightmare, The_part1.mp4 – 40.9 MB
JEV-142 – Shop-A-Holic&_x27;s Nightmare, The_part2.mp4 – 58.1 MB
JEV-142 – Shop-A-Holic&_x27;s Nightmare, The_part3.mp4 – 51.9 MB
JEV-142 – Shop-A-Holic&_x27;s Nightmare, The_part4.mp4 – 22.1 MB
JEV-142 – Shop-A-Holic&_x27;s Nightmare, The_part5.mp4 – 29.2 MB
JEV-142 – Shop-A-Holic&_x27;s Nightmare, The_part6.mp4 – 29.9 MB
JEV-142 – Shop-A-Holic&_x27;s Nightmare, The_part7.mp4 – 34.0 MB
JEV-142 – Shop-A-Holic&_x27;s Nightmare, The_part8.mp4 – 5.9 MB
JEV-143 – Bishop Tribute_part1.mp4 – 125.0 MB
JEV-143 – Bishop Tribute_part2.mp4 – 62.8 MB
JEV-143 – Bishop Tribute_part3.mp4 – 44.0 MB
JEV-143 – Bishop Tribute_part4.mp4 – 70.8 MB
JEV-143 – Bishop Tribute_part5.mp4 – 25.5 MB
JEV-144 – Dressed To Impress_part1.mp4 – 117.2 MB
JEV-144 – Dressed To Impress_part10.mp4 – 22.0 MB
JEV-144 – Dressed To Impress_part11.mp4 – 11.7 MB
JEV-144 – Dressed To Impress_part2.mp4 – 58.6 MB
JEV-144 – Dressed To Impress_part3.mp4 – 60.6 MB
JEV-144 – Dressed To Impress_part4.mp4 – 57.3 MB
JEV-144 – Dressed To Impress_part5.mp4 – 74.6 MB
JEV-144 – Dressed To Impress_part6.mp4 – 47.0 MB
JEV-144 – Dressed To Impress_part7.mp4 – 68.3 MB
JEV-144 – Dressed To Impress_part8.mp4 – 75.1 MB
JEV-144 – Dressed To Impress_part9.mp4 – 42.1 MB
JEV-145 – Jenni Lee&_x27;s Wild Ride_part1.mp4 – 111.4 MB
JEV-145 – Jenni Lee&_x27;s Wild Ride_part2.mp4 – 51.1 MB
JEV-145 – Jenni Lee&_x27;s Wild Ride_part3.mp4 – 59.1 MB
JEV-145 – Jenni Lee&_x27;s Wild Ride_part4.mp4 – 56.2 MB
JEV-145 – Jenni Lee&_x27;s Wild Ride_part5.mp4 – 51.4 MB
JEV-145 – Jenni Lee&_x27;s Wild Ride_part6.mp4 – 38.4 MB
JEV-145 – Jenni Lee&_x27;s Wild Ride_part7.mp4 – 51.2 MB
JEV-145 – Jenni Lee&_x27;s Wild Ride_part8.mp4 – 51.1 MB
JEV-145 – Jenni Lee&_x27;s Wild Ride_part9.mp4 – 11.7 MB
JEV-148 – Stacy&_x27;s Submission Session_part1.mp4 – 55.3 MB
JEV-148 – Stacy&_x27;s Submission Session_part10.mp4 – 49.2 MB
JEV-148 – Stacy&_x27;s Submission Session_part11.mp4 – 15.6 MB
JEV-148 – Stacy&_x27;s Submission Session_part2.mp4 – 54.3 MB
JEV-148 – Stacy&_x27;s Submission Session_part3.mp4 – 66.0 MB
JEV-148 – Stacy&_x27;s Submission Session_part4.mp4 – 61.1 MB
JEV-148 – Stacy&_x27;s Submission Session_part5.mp4 – 68.5 MB
JEV-148 – Stacy&_x27;s Submission Session_part6.mp4 – 45.3 MB
JEV-148 – Stacy&_x27;s Submission Session_part7.mp4 – 40.9 MB
JEV-148 – Stacy&_x27;s Submission Session_part8.mp4 – 48.8 MB
JEV-148 – Stacy&_x27;s Submission Session_part9.mp4 – 58.5 MB
JEV-151 – Poor You!_part1.mp4 – 53.5 MB
JEV-151 – Poor You!_part10.mp4 – 11.5 MB
JEV-151 – Poor You!_part2.mp4 – 39.2 MB
JEV-151 – Poor You!_part3.mp4 – 53.5 MB
JEV-151 – Poor You!_part4.mp4 – 57.5 MB
JEV-151 – Poor You!_part5.mp4 – 50.1 MB
JEV-151 – Poor You!_part6.mp4 – 26.2 MB
JEV-151 – Poor You!_part7.mp4 – 75.0 MB
JEV-151 – Poor You!_part8.mp4 – 82.1 MB
JEV-151 – Poor You!_part9.mp4 – 49.5 MB
JEV-157 – Blondage Files, The_part1.mp4 – 26.5 MB
JEV-157 – Blondage Files, The_part2.mp4 – 34.4 MB
JEV-157 – Blondage Files, The_part3.mp4 – 75.9 MB
JEV-157 – Blondage Files, The_part4.mp4 – 42.0 MB
JEV-157 – Blondage Files, The_part5.mp4 – 49.7 MB
JEV-157 – Blondage Files, The_part6.mp4 – 29.2 MB
JEV-157 – Blondage Files, The_part7.mp4 – 32.5 MB
JEV-157 – Blondage Files, The_part8.mp4 – 17.9 MB
JEV-159 – Manhandled Molly_part1.mp4 – 54.3 MB
JEV-159 – Manhandled Molly_part10.mp4 – 25.0 MB
JEV-159 – Manhandled Molly_part11.mp4 – 12.8 MB
JEV-159 – Manhandled Molly_part2.mp4 – 66.7 MB
JEV-159 – Manhandled Molly_part3.mp4 – 47.6 MB
JEV-159 – Manhandled Molly_part4.mp4 – 40.2 MB
JEV-159 – Manhandled Molly_part5.mp4 – 70.6 MB
JEV-159 – Manhandled Molly_part6.mp4 – 51.9 MB
JEV-159 – Manhandled Molly_part7.mp4 – 41.4 MB
JEV-159 – Manhandled Molly_part8.mp4 – 44.4 MB
JEV-159 – Manhandled Molly_part9.mp4 – 60.2 MB
JEV-166 – Pretty In Pink_part1.mp4 – 28.7 MB
JEV-166 – Pretty In Pink_part10.mp4 – 7.1 MB
JEV-166 – Pretty In Pink_part2.mp4 – 33.9 MB
JEV-166 – Pretty In Pink_part3.mp4 – 30.3 MB
JEV-166 – Pretty In Pink_part4.mp4 – 35.8 MB
JEV-166 – Pretty In Pink_part5.mp4 – 28.9 MB
JEV-166 – Pretty In Pink_part6.mp4 – 32.7 MB
JEV-166 – Pretty In Pink_part7.mp4 – 36.9 MB
JEV-166 – Pretty In Pink_part8.mp4 – 32.5 MB
JEV-166 – Pretty In Pink_part9.mp4 – 29.7 MB
JEV-169 – Lessons For Lauren_part1.mp4 – 31.0 MB
JEV-169 – Lessons For Lauren_part10.mp4 – 6.1 MB
JEV-169 – Lessons For Lauren_part2.mp4 – 37.1 MB
JEV-169 – Lessons For Lauren_part3.mp4 – 34.9 MB
JEV-169 – Lessons For Lauren_part4.mp4 – 41.6 MB
JEV-169 – Lessons For Lauren_part5.mp4 – 33.7 MB
JEV-169 – Lessons For Lauren_part6.mp4 – 28.6 MB
JEV-169 – Lessons For Lauren_part7.mp4 – 29.5 MB
JEV-169 – Lessons For Lauren_part8.mp4 – 33.1 MB
JEV-169 – Lessons For Lauren_part9.mp4 – 26.0 MB
JEV-171 – Attitude Adjustment_part1.mp4 – 35.1 MB
JEV-171 – Attitude Adjustment_part10.mp4 – 5.5 MB
JEV-171 – Attitude Adjustment_part2.mp4 – 35.3 MB
JEV-171 – Attitude Adjustment_part3.mp4 – 28.5 MB
JEV-171 – Attitude Adjustment_part4.mp4 – 34.5 MB
JEV-171 – Attitude Adjustment_part5.mp4 – 35.0 MB
JEV-171 – Attitude Adjustment_part6.mp4 – 33.7 MB
JEV-171 – Attitude Adjustment_part7.mp4 – 27.1 MB
JEV-171 – Attitude Adjustment_part8.mp4 – 25.4 MB
JEV-171 – Attitude Adjustment_part9.mp4 – 36.6 MB
JEV-181 – Tight and Tighter_part1.mp4 – 54.8 MB
JEV-181 – Tight and Tighter_part10.mp4 – 15.0 MB
JEV-181 – Tight and Tighter_part2.mp4 – 60.5 MB
JEV-181 – Tight and Tighter_part3.mp4 – 49.0 MB
JEV-181 – Tight and Tighter_part4.mp4 – 67.0 MB
JEV-181 – Tight and Tighter_part5.mp4 – 58.5 MB
JEV-181 – Tight and Tighter_part6.mp4 – 106.0 MB
JEV-181 – Tight and Tighter_part7.mp4 – 51.7 MB
JEV-181 – Tight and Tighter_part8.mp4 – 45.3 MB
JEV-181 – Tight and Tighter_part9.mp4 – 45.7 MB
JEV-198 – Bondage Virgin_part1.mp4 – 29.3 MB
JEV-198 – Bondage Virgin_part2.mp4 – 32.5 MB
JEV-198 – Bondage Virgin_part3.mp4 – 34.3 MB
JEV-198 – Bondage Virgin_part4.mp4 – 34.1 MB
JEV-198 – Bondage Virgin_part5.mp4 – 38.4 MB
JEV-198 – Bondage Virgin_part6.mp4 – 36.6 MB
JEV-208 – Paying The Price_part1.mp4 – 27.0 MB
JEV-208 – Paying The Price_part2.mp4 – 34.9 MB
JEV-208 – Paying The Price_part3.mp4 – 44.0 MB
JEV-208 – Paying The Price_part4.mp4 – 35.2 MB
JEV-208 – Paying The Price_part5.mp4 – 28.4 MB
JEV-208 – Paying The Price_part6.mp4 – 43.2 MB
JEV-251 – Long Day for Natalie_part1.mp4 – 93.2 MB
JEV-251 – Long Day for Natalie_part2.mp4 – 134.0 MB
JEV-251 – Long Day for Natalie_part3.mp4 – 91.2 MB
JEV-251 – Long Day for Natalie_part4.mp4 – 50.7 MB
JEV-251 – Long Day for Natalie_part5.mp4 – 86.1 MB
JEV-251 – Long Day for Natalie_part6.mp4 – 80.5 MB
JEV-251 – Long Day for Natalie_part7.mp4 – 8.6 MB
JEV128_part1.mp4 – 34.4 MB
JEV128_part2.mp4 – 68.3 MB
JEV128_part3.mp4 – 27.4 MB
JEV128_part4.mp4 – 21.0 MB
JEV128_part5.mp4 – 70.5 MB
JEV128_part6.mp4 – 12.6 MB
JEV128_part7.mp4 – 16.5 MB
JEV128_part8.mp4 – 3.9 MB
JSV-2 – Strict Touch of the Master_part1.mp4 – 44.3 MB
JSV-2 – Strict Touch of the Master_part10.mp4 – 70.9 MB
JSV-2 – Strict Touch of the Master_part2.mp4 – 49.3 MB
JSV-2 – Strict Touch of the Master_part3.mp4 – 54.7 MB
JSV-2 – Strict Touch of the Master_part4.mp4 – 58.8 MB
JSV-2 – Strict Touch of the Master_part5.mp4 – 98.1 MB
JSV-2 – Strict Touch of the Master_part6.mp4 – 107.4 MB
JSV-2 – Strict Touch of the Master_part7.mp4 – 52.3 MB
JSV-2 – Strict Touch of the Master_part8.mp4 – 59.3 MB
JSV-2 – Strict Touch of the Master_part9.mp4 – 51.8 MB
Themes In Red And Black_part1.mp4 – 57.0 MB
Themes In Red And Black_part10.mp4 – 46.2 MB
Themes In Red And Black_part11.mp4 – 45.2 MB
Themes In Red And Black_part12.mp4 – 30.5 MB
Themes In Red And Black_part13.mp4 – 28.5 MB
Themes In Red And Black_part14.mp4 – 42.1 MB
Themes In Red And Black_part2.mp4 – 57.6 MB
Themes In Red And Black_part3.mp4 – 85.0 MB
Themes In Red And Black_part4.mp4 – 69.7 MB
Themes In Red And Black_part5.mp4 – 26.9 MB
Themes In Red And Black_part6.mp4 – 61.3 MB
Themes In Red And Black_part7.mp4 – 76.2 MB
Themes In Red And Black_part8.mp4 – 42.7 MB
Themes In Red And Black_part9.mp4 – 48.8 MB
Jay Edwards clips
jay edwards groping rope bondage no sex ball gag bondage bdsm jayedwards com 2000s